Text messages, tracking, social media anywhere in the world.



Keep record of incoming radio calls - AlaskaNet subscribers




Point-to-point and wide-area dispatch communication for fleets and vehicles.




Satellite services & products via G2 MSAT system.




Fleet Broadband provides a range of voice and data solutions.




Mobile satellite with voice and data covering all the planet.




World standard for satellite email and messaging.




Analog, digital, DSP, and RF product design and development.


Mechanical tracking antenna systems of outstanding quality.
| | |
| --- | --- |
| | |

We are an authorized distributor for Delorme 'InReach' -- The Texting, Tracking, Emergency, Social Media Hand-held Devices.

inReach SE . . . . . . . . . . . . . . . . . . . . . . . . . . . . .



Feature Packed, Easy to Operate, World-wide Service -- Nothing Else Comes Close

Send and receive free-form, 160-character text messages outside of cell phone range.
Trigger an SOS and interact back and forth with GEOS, our 24/7 search and rescue monitoring center.
Turn on tracking to share and view GPS coordinates.
Color screen and virtual keyboard with predictive text.
Intuitive LED indicator for satellite availability.
Audible message notifications.
Long-lasting internal rechargeable lithium battery for ultimate convenience and portability.
Works with your Smartphone - any iOS or Google based device.
Designed for maximum durability in harsh environments (waterproof, dustproof, and impact-resistant).
Post to social media.



ORDER from a Satellite Alaska Dealer




The world's only truly global satellite communicator now has built-in navigation with waypoints and routing.

Navigate.
Create waypoints
Log your trip and find your way back.
Send and receive text messages.
Trigger an interactive SOS.
Plan, track and share your journey.
Long-lasting internal rechargeable lithium battery for ultimate convenience and portability.

You can do all of this from one rugged handheld device with 100% global coverage from Iridium. You can also pair it with your mobile device to access topographic maps and U.S. NOAA charts.



ORDER from a Satellite Alaska Dealer


NEW! OCENS Weather Add-On

Navigate
Navigate with confidence using DeLorme Topo North America maps, DeLorme Digital Atlas of the Earth maps or NOAA Charts. Unlike streaming maps, your downloaded maps remain available even when outside of cellular coverage. Free app for smartphone users at iTunes.com or Googleplay.com enables free map downloads
Earthmate App
inReach can be used in conjunction with DeLorme's Earthmate app on a mobile device and our Explore web portal. When paired with your mobile device, the capabilities of either inReach product is enhanced. Previously downloaded map data is only accessible during paired mode. Pairing inReach allows you to use your mobile device to send messages from the Earthmate app.
* inReach Earthmate application currently requires paired devices to have an internal GPS chip.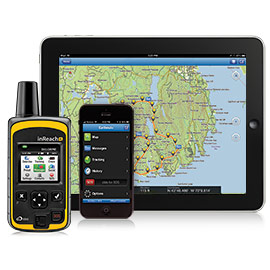 Worry-free navigation and journey tracking.
Unlimited access to downloadable topographic maps and NOAA charts on your paired mobile device.
Automatically syncs with your mobile device's address book for easy texting.
Pairs via Bluetooth.
Explore Web Portal
Prepare and share your journey with family and friends with our Explore web portal:
Share your location and trip details with MapShare, including tracking and GPS information.
Invite others to "ping" your inReach to see your location, activate tracking and exchange messages.
Load preset messages to your inReach.
Link to your social media accounts.
View all your previous trips and messages.
Manage your account and settings, including emergency contacts.
Update your inReach firmware.
Why Buy From Us
::
View Satellite Alaska dealer direct advantages
Contact a Dealer to ORDER YOURS
Contact Satellite Alaska directly for
MORE INFORMATION